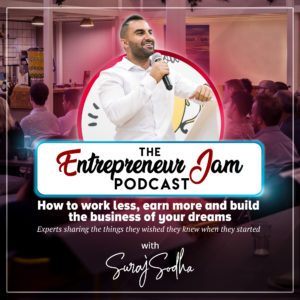 My podcast's mission is to teach you how to work less, earn more, and love the lifestyle that comes with being a successul entrepreneur. I'll be asking experts the questions you really want answers to.
A thought-provoking, insightful, and educational podcast that will tap into the mind of a driven and inspired entrepreneur. Honest, direct, and topical.
What do you wish you knew at the start of your journey?
Each episode will be a candid and open conversation designed to give you a peek behind the curtain of how a successful business is run, with tips, ideas and strategies showing you how you can achieve similar results yourself.
I will be asking each guest to share what they wish they knew when they first got started and how that lesson can help others to achieve results faster.
The EntrepreneurJam podcast is a crash-course on business growth, marketing, mindset for success, and building the lifestyle that you dream of living.